Regular price
Sale price
$4.00 USD
Unit price
per
Sale
Sold out
You don't have to believe in their metaphysical properties to enjoy crystals. They are so pretty and can add a touch of natural beauty to any space. They're also a unique gift idea, and kids love them!
Polished White Agate
(x-large, 1 1/8"-1 1/2")
Agates are created from nodular masses in rock, like volcanic and certain metamorphic rocks. Agates are made of fibrous chalcedon/(cryptocrystalline silica) and the fibers in thin slices are sometimes visible in a transmitted light which causes interesting optical effects. It is believed to balance between the spiritual, intellectual, emotional, and physical states, as well as to stimulate general analytical capacity and enhance perceptiveness. It improves concentration and memory, promotes goodwill, and assists in encouraging honesty and discerning the truth. Agate is also used by people who want pleasant dreams, calming influence and insomnia-preventing effects.
Polished

Rose Quartz
(small/medium, 7/8"-1 1/4")
Rose Quartz is popularly known as the love stone. It adds positive love energy to relationships, as well as compassion and forgiveness. It calms the emotions and helps clear stored anger, resentment, jealousy, and fears. Working with Rose Quartz replaces negativity with harmony, balances the upper four chakras, eases sexual/emotional imbalances, and enhances self-confidence and creativitv.
Polished

Clear Quartz
(large, 1 1/8"-1 1/2")
Quartz is made up of silicon and oxygen atoms. It forms in almost all mineral environments at all temperatures. It is a highly prized mineral in the world of alternative healing. It is considered a powerful healing stone; a "Universal Crystal" with a diverse range of benefits in healing and meditation. It is used to protect and channel energies, to restore harmony, stimulate healing, clear the mind, and enhance creativity.
Lemurian Quartz Points
(small, 3/4"-1")
Lemurian crystals are perfect examples of a crystalline structure created by what is known as the "Muzo crystal growth habit". They occur naturally with multiple striations, which are thought to contain information from ancient civilizations. You can backlight these crystals to observe the finely etched hieroglyphics that become visible when the striations are magnified.
Pistachio Green Calcite
(x-large, 1 1/8"-1 1/2")
Calcite is a rock-forming mineral that can be found almost anywhere. It's the primary constituent of marble and limestone. Green Calcite is a heart stone that is believed to have the ability to soothe vital organs. It also relieves stress and releases blocked energies. Hold a piece of Green Calcite while taking deep breaths to de-stress.
Share
View full details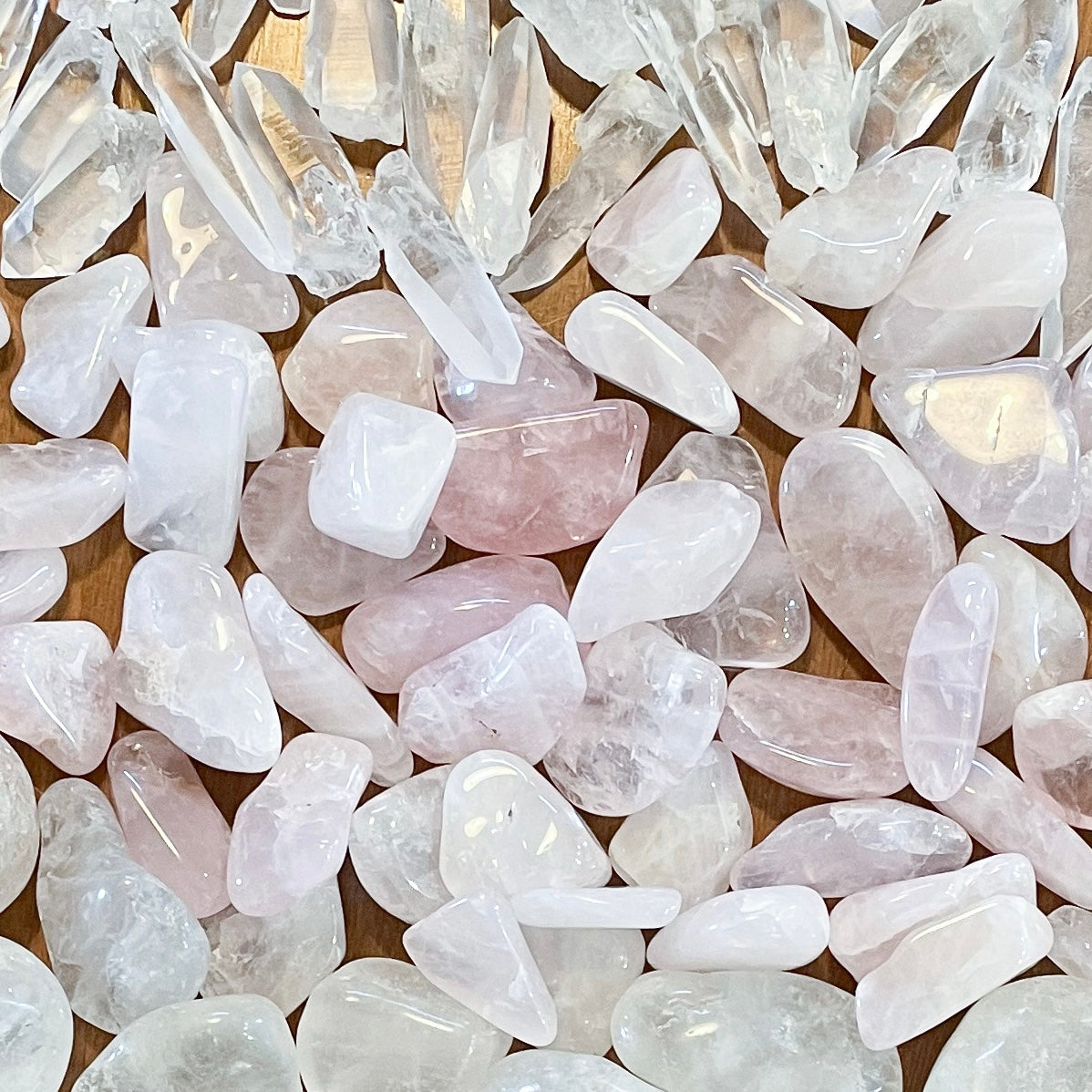 Free Shipping + Delivery

Spend $69 before tax and receive free Winnipeg delivery.

Spend $99 before tax and receive free Manitoba Shipping.

Spend $149 before tax and receive free Canada Shipping.

Free Winnipeg Pick Up

In the South Osborne area of Winnipeg.

Pick up details are emailed to you once your order is ready.